magine loading a disc into your DVD Player and be instantly transported back to any time you chose in the past five decades ... think how that would feel.
Let me tell you, it's the closest thing you're gonna find to a real live time machine. It's just like I've captured the past and brought it into your home.
Now I know what you're thinking, what is this guy talking about?
---
---
This "captured time" I speak of are long forgotten links with some of the most entertaining times in your life. Here's an opportunity to step into the past with something you'd least expect ... Yesteryears TV Commercials.

It's an absolute riot! Remember the "Talking Parkay" margarine (oops, I mean "butter!") Just ask Mikey ... he likes it!
And who could forget little old 4-foot 11-inches Clara Pellar ... "Where's the Beef?"
See them all appear on your TV screen in the comfort of your own home, any time you chose.
This blast from the past is priceless! What an experience, to be connected to all those great years again.

---
"Brought Back So Many Memories..."
" I can't tell you how much I enjoyed the tape you sent me - Volume 38. Oh it brought back so many memories! I just love your site and your selection and hopefully soon, I'll have purchased a copy of every tape in your library!!"
Joey in Jersey City, New Jersey
"Quite Impressed..."
" I received the volume 5 DVD today and I am quite impressed. It had a lot of commercials including some network promos. Thanks for the disc ... and take care."
Derrick in San Francisco, California
---
*Here's How It Happened...
I almost feel like a keeper of the keys to a magical kingdom. But this land, frozen in time, was not easy to create.
After years of research, I've collected over 13,640 classic TV commercials that are now archived on *Sixty-Three Volumes*. They range from the 1950s, all the way into the late 1990s.
I performed this incredible feat because no one else would. Or could.
In the summer of 2001 I had compiled and debuted the Early Eighties Saturday Morning Commercials found on "Volume 1" of my Videomercials Exclusives. It was the very first compilation I had made (and my most popular one.)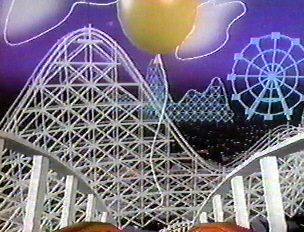 ---
Before 2001, no one online was offering official or unofficial releases for sale of '80s and '90s TV commercials in broadcast format. It's as if you had stepped inside of a Time Machine and it took you back to a specific year, and watching the commercials in the same order as it had originally aired on your television.

*Talk about authenticity...!!!
I wanted my compilations to be distinct from the others so I edited out the repeated commercials and TV programs... nothing else. And as a result I had a compilation of commercials that resembled the original TV broadcasts.
You see, prior to August of 2001 I was just like you. I was searching for vintage TV commercials from a specific decade, and the compilations that I had found were truly underwhelming. They were either:
Poorly edited
Had unwatchable picture quality
Or ... were just plain boring!
So instead of wallowing in disappointment, I vowed to compile TV commercials the way most of us want to view them... in broadcast format.
The research began ... and even some video-trading with some collectors who have titles they've never released to anyone else ... and won't again. But I've made these available to you, and you can't get them anywhere else.
While some of these are unobtainable elsewhere at any price, I also have some that are simply downright hard to find.

---
---
*Remember When You Were a Kid? That Part of You Still Lives...!!
Think how wonderful it would be to watch a broadcast from both Network and Independent TV Stations decades ago in this present time. A doorway into all those wonderful forgotten years.
Are you getting excited?
Great! Because I am, and have been for years. I want you to experience a TIME WARP like never before.
Watching these DVDs and VHS Tapes will literally bring you back with stunning footage of original ads. Each Video or DVD (that you select) contain up to 2-hours of sheer viewing pleasure!

---
*Are You Ready to Take That Blast to the Past When Television was Worth Watching...???
* You will see 80's Saturday Morning TV Broadcasts at it's finest!
* Broadcasts from the major TV Networks like: CBS, NBC, and ABC.
* Footage from Independent TV Stations from around the United States!
---
*Times Were Simpler, Happier Then...!!!
The sensation is incredible. You'll feel young again, like back when anything was possible! Most people would pay thousands just to be able to experience those feelings again, if even for a few hours...
Luckily, you don't have to.
Not even a few hundred for these genuine raw, uncut commercial breaks. Each compilation is two hours of real-time retro! (Think: "Caught me Lucky Charms, they're magically delicious!" or, "Tony the Tiger says they're Grrreat!")

How much is it worth to recover a part of your precious past ... parts of your life that you may lose forever, without these joyful reminders.
You can have your own personal favorite decade to watch, but only if you place your order To-day!
---
---
Select 5 Titles from my Videomercials site and pay only $97.
Or...
Select 8 Volumes from this site and pay only $117...
---
---
---
Click on the links below to select the Volumes you would like to have.
Home | Volumes 1- 20 | Volumes 21 - 40 | Volumes 41 - 60 | Volumes 61 - 63
FAQ | Mail-in Order Form | Terms of use - Privacy policy | Sign Up For Our Newsletter!
---
---
QUESTIONS?? CONTACT US VIA THIS FORM*
If the contact form isn't functioning, E-mail Us: Videomercials[at]msn.com

© Copyright 2003-2013, Videomercials 80's commercials | 70's commercials | 90's commercials | 60's commercials | vintage commercials | classic commercials | old commercials | 90s commercials | 80s commercials | tv commercials | television commercials | download commercials | old tv commercial jingles | download tv commercials | funny tv commercialsmcdonald's commercials> | music from tv commercials | banned tv commercials | retro tv ads | retro tv commercials | classic tv ads | old tv adverts | | mcdonalds commercials | 80's memorabilia | 70's memorabilia | Classical Movies [70's commercials for sale] [80s commercials for sale] [vintage commercials for sale] [classic commercials for sale]
---